ProjectABC Summit
The ProjectABC Summit was a five hour gathering held November 14, 2017 at the Blair Education Center (Park City Hospital). During the ProjectABC Summit more than 80 community members came together to learn, share, celebrate, and plan for the future of Arts and Culture in Summit County.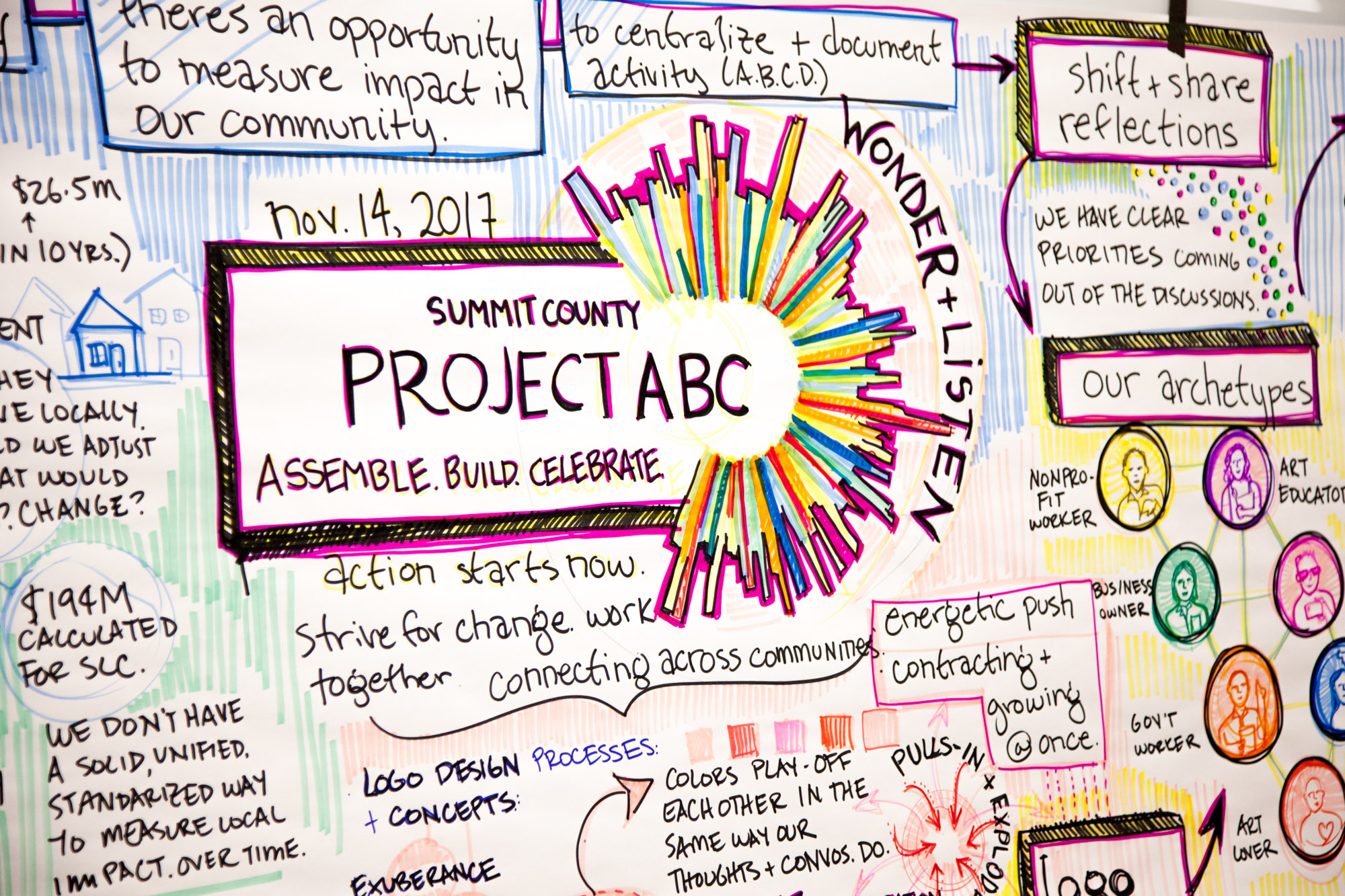 Primary goals of the ProjectABC Summit
ASSEMBLE: Come together as a complete community

BUILD: Consider our research, comment, and collaboratively plan for action

CELEBRATE: Enjoy some arts and culture and interactive experiences that shine a light on our local creativity

 
ProjectABC Summit Planning Team
HOSTS: Jake McIntire and Hadley Dynak (ProjectABC)
FACILITATOR: Jessica Riehl
GRAPHIC RECORDER: Rayna Wiles
PRODUCTION & LOGISTICS: Jocelyn Scudder (PCSC Arts Council)
What happened: agenda
1:00 Welcome
1:30 State of the Arts and Stakeholder Showcase
2:00 Work Session 1 (Data Review)
3:30 Work Session 2 (Action Planning)
5:00 Open House
5:45 Closing Remarks / Drum Circle
State of the Arts
During the ProjectABC Summit, Hadley Dynak, Executive Director of the Park City Summit County Arts Council, delivered a State of the Arts talk which laid out the personal, community, and economic impact of Arts and Culture in Summit County.
 
Steering Committee Presentations
The Steering Committee met monthly on the third Friday from 11-12pm at the Park City Library. These meetings were open to the public and office hours were held immediately following for community conversation. Presentations were posted following each meeting.
The Project ABC research process began with people. We organized our data collection by the following key stakeholder groups, looked for points of overlap, and used these stakeholder groups to shape the priorities and strategies seen above. Click the buttons bellow to see reports about the values, pains, needs, and dreams of each stakeholder. These reports are aggregated into the Stakeholder Report linked above.