The following priorities and underlying strategies emerged directly from several months of research and data collection which included: 915 survey responses, 17 interviews, 8 workgroup sessions, 8 council presentations, 10 steering committee meetings, 8 benchmark communities, a countywide economic impact analysis, and countless community conversations. These priorities and strategies are not specific to any one sector or stakeholder group - they represent the collective.
Spaces: Develop, support, and protect high-quality facilities and venues for the creation, cultivation, and exhibition of Arts and Culture countywide.
Data: Develop systems and tools that use data to drive decision-making and track the future of arts and culture in Summit County.
Places: Support the development and connection of places for arts and culture across Summit County geographies.
Funding: Develop diverse and sustainable funding mechanisms to ensure long-term success and vibrancy for Arts and Culture in Summit County.
Governance/Policy: Create administrative structures, systems, and policies to support the sustained vitality and growth of arts and culture in Summit County.
People/Organizations: Support the needs of people and organizations through arts and culture in Summit County
Programming: Build creative programs that respond to our diverse community needs, interests, and dreams
ProjectABC Summit
The ProjectABC Summit was a five hour gathering held November 14, 2017 at the Blair Education Center (Park City Hospital). During the ProjectABC Summit more than 80 community members came together to learn, share, celebrate, and plan for the future of Arts and Culture in Summit County.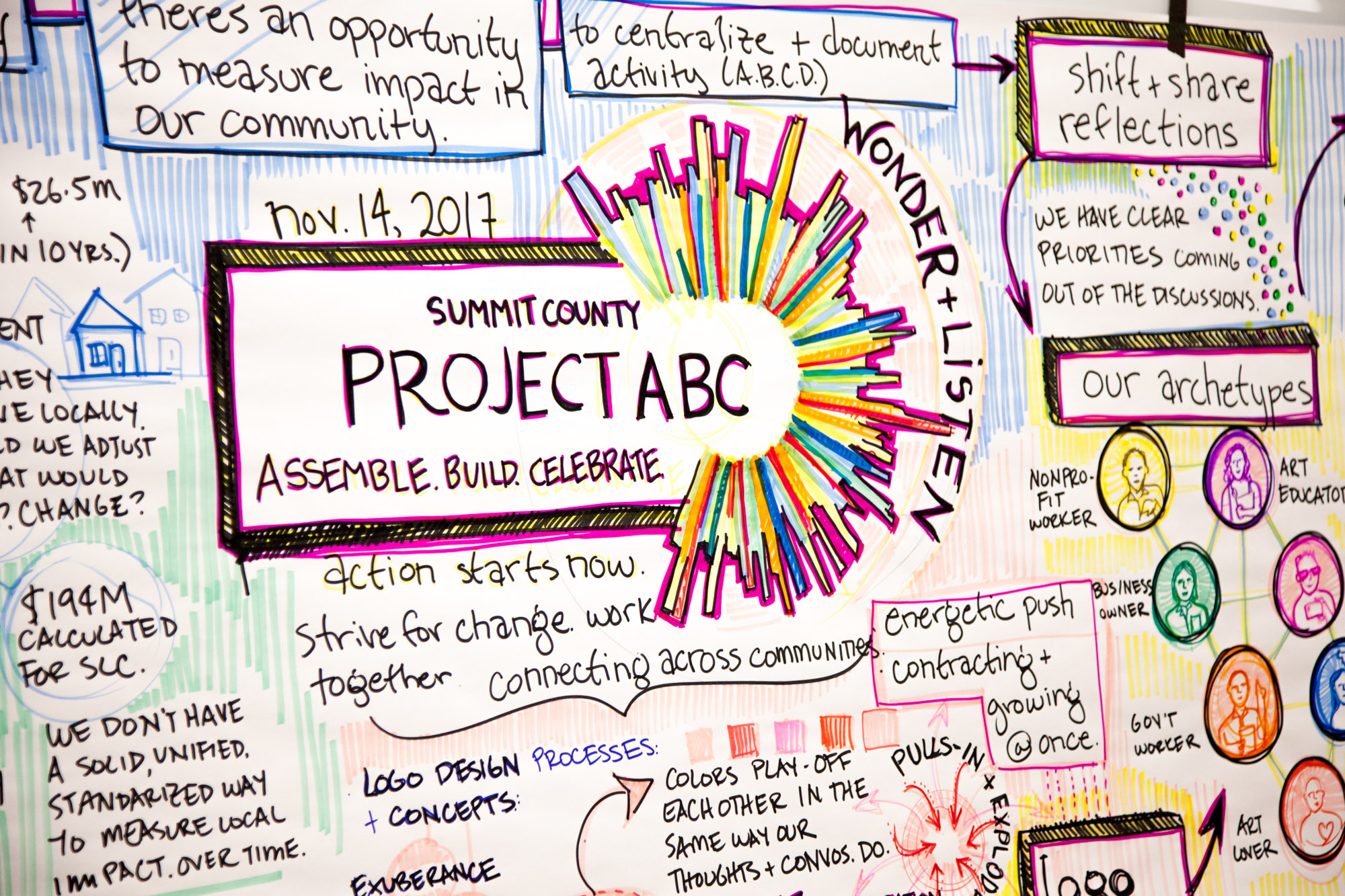 Primary goals of the ProjectABC Summit
ASSEMBLE: Come together as a complete community

BUILD: Consider our research, comment, and collaboratively plan for action

CELEBRATE: Enjoy some arts and culture and interactive experiences that shine a light on our local creativity

 
ProjectABC Summit Planning Team
HOSTS: Jake McIntire and Hadley Dynak (ProjectABC)
FACILITATOR: Jessica Riehl
GRAPHIC RECORDER: Rayna Wiles
PRODUCTION & LOGISTICS: Jocelyn Scudder (PCSC Arts Council)
What happened: agenda
1:00 Welcome
1:30 State of the Arts and Stakeholder Showcase
2:00 Work Session 1 (Data Review)
3:30 Work Session 2 (Action Planning)
5:00 Open House
5:45 Closing Remarks / Drum Circle
State of the Arts
During the ProjectABC Summit, Hadley Dynak, Executive Director of the Park City Summit County Arts Council, delivered a State of the Arts talk which laid out the personal, community, and economic impact of Arts and Culture in Summit County.
 
Benchmark Communities
We have researched eight benchmark communities throughout the country to look for precedents, inspiration, and comparable ideas that may help inform the future of Arts and Culture in Summit County. These cities were selected based on their size, similarities to Summit County, or their reputation for Arts and Culture. We picked a mix of communities that were both highly comparable to Summit County and were a bit divergent, but had great lessons relevant to Summit County.
Workgroup Recaps and Insights
Five Workgroups will convene at several key points during the process to provide substantive guidance and direction, encourage community engagement, help solve problems, and identify action steps.

These groups are: Nonprofit Workgroup // Business Workgroup // Creative Workgroup // Finance Workgroup// Youth Workgroup. Learn more about each workgroup on our Structure page.
Steering Committee Presentations
The Steering Committee meets monthly on the third Friday from 11-12pm at the Park City Library. These meetings are open to the public and office hours are held immediately following for community conversation. Presentations are posted here following each meeting.